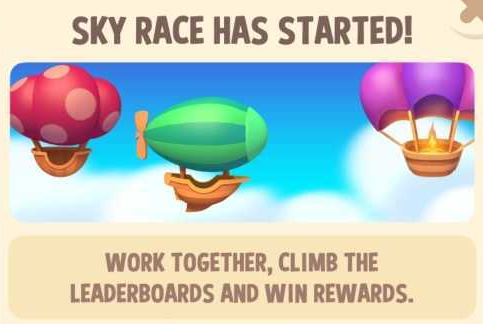 News
Post last updated on 2 March 2021
The Sky Race event is rolling out to players but not all players will be able to participate immediately. So if tapping the zeppelin (balloon) does nothing in your game, worry not, Zynga are making sure that everything is fine-tuned before you can participate!
What is Sky Race.
Sky Race event introduced in 1st March 2021 in update version 1.7.14522 replacing the old co-op chest event. They have same concept where your co-op competes with other co-ops (co-op vs co-op). Main objective in Sky Race is to earn Race Points by completing Tasks around your farm.
Race points earned by members of your co-op, will move your co-op's progress in the Race. Every co-op will be presented as a Balloon. Off course, you can change the Balloon appearance.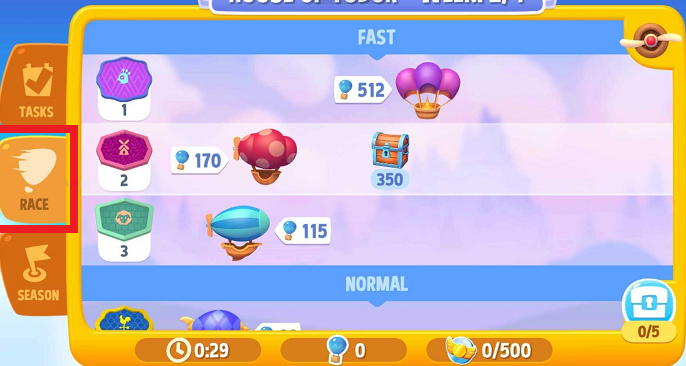 The main differences between previous co-op events are:
Duration. 1 event 4 seasons. Each season will have 4 races. One race duration is 1 week.
Many tasks instead of just Board Delivery.
Will have leagues like County Fair.
Boosting. No more 40 gems whole co-op boost
Important Concepts.
You need to understand few things first before you able to play Sky Race:
Minimum player level is 20. Once you reach level 20, you will unlock the 2 new Buildings beside your Farm; The Balloon and Sky Race Store Tapping on the balloon would be the entry point to the Sky Race Menu while the small building with a lady beside it is the Shop.
Seasons and Races. Each event consists 1 Season and 1 Season contains 4 Races. A Race duration is 1 week making the whole Season duration as 4 weeks.
THEME. A Season will have a Theme and offer limited time items that will not be obtainable in the future! You can get these items by purchasing them in Sky Race Store using Sky Tokens.
Sky Tokens. Sky Token is new currency introduced and its purpose is to be spent in Sky Race Store. You can obtain Sky Tokens by completing Tasks.
TASKS. Tasks are main activities in The Sky Race. There are many types of Tasks with different Requirements, Rewards and Time Limits. More info below. By completing Tasks, you will earn Race Points and move your co-op progress in the Race Leaderboard.
Leaderboard. This is where you compete with other co-ops. The more points your co-op members acquire, the higher your place in the leaderboard. Top 3 co-ops of each Race will be promoted to higher League (same as County Fair). More Details below.
League. The higher League you are, the better Tasks you will receive and better rewards too. More Details below.
Put It Simply...
In short, you just have to complete Tasks in order to Win a Race and to get Promoted to higher League!
How to start?
You can start by tapping on the Balloon, and choose a Task. Once you start a Task, your co-op will join a Race.
How to earn Race Points and Sky Tokens
By completing Tasks. Task details below.
Task Details
There are many kind of Tasks can be done. Each has different Requirements, Time Limit, Race Points and Sky Tokens. The amount of tasks can be completed depends on which league you are.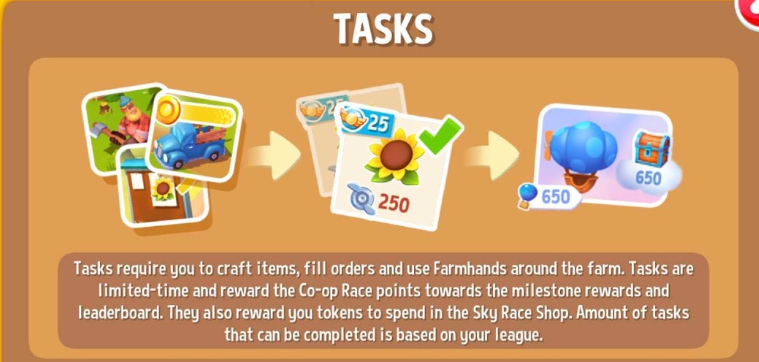 You start doing a Task by choosing one from the Tasks tab. You will need to complete the Task within the time required.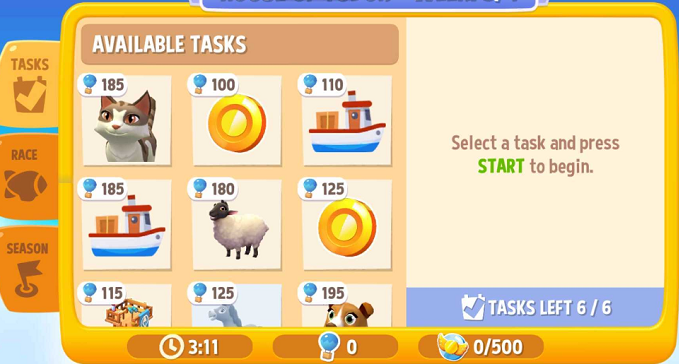 Some of the Tasks are:
Feed Animals
Craft Items
Cook Recipes
Board (Truck) Delivery
Boat Delivery
Do Exotic Animal missions
Earn Coins
Clear Rubbles
Fulfill Visitor Requests
Grow crops and berries
Tasks that failed to be completed will not give any Race Points, Sky Tokens and Rewards. Same when you cancel a Task.
A task can be Reserved and your co-op members will able to see it and they will know which task are you working on.
Boosts Details
TBD (extra task 50 gems, ..)
Leaderboard and Milestones Details
In the Race tab, you will also see the Total Points your Co-op earned in the current Sky Race. Keep completing Tasks to earn more Race Points. Get the most Race Points for your Co-op to reach the top of the Leaderboard!
There is also Milestones placed in every Race. Your co-op need to reach specific amount of Points to reach these Milestones and get Rewards!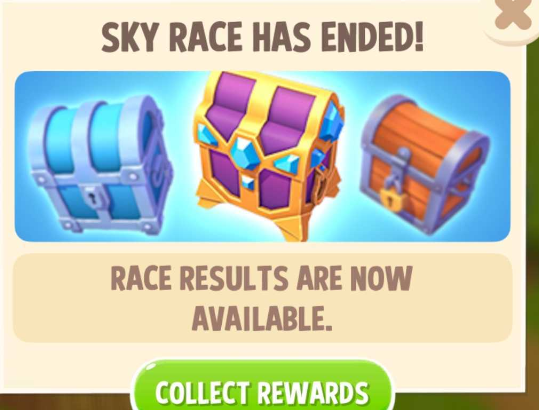 You can check your co-op members contributions in the Statistics section in Tasks tab.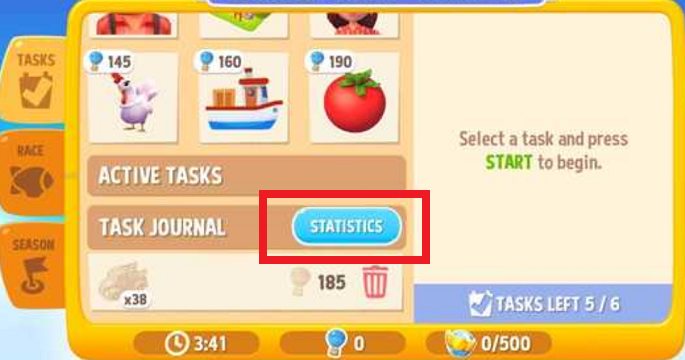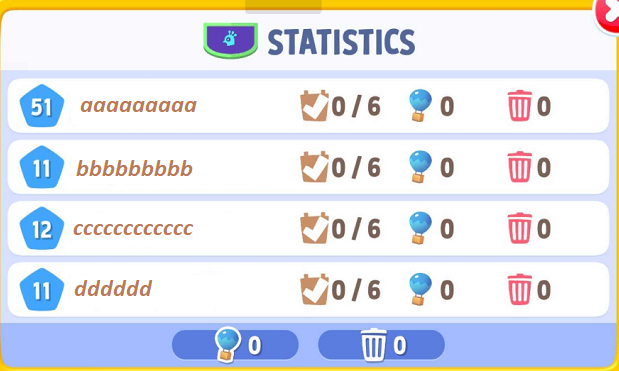 Leagues Details
At the end of each Race the top 3 Co-ops in the Leaderboard are promoted to the next higher League while the bottom 3 Co-ops are demoted to the next lower League. Co-ops in 4th-12th place will remain in their current League.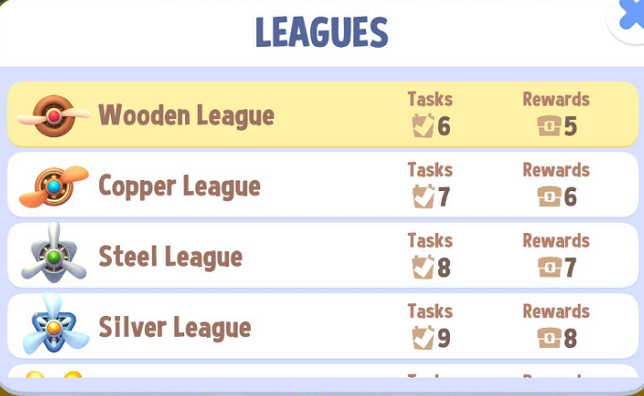 Current tiers of the leagues are:
Wooden (all co-ops start here)
Copper
Steel
Silver
Gold
Once you have reached the Gold League, there will be another Leaderboard called Season Leaderboard. Two of your Highest scores in that Season's Race will be counted in the Season Leaderboard.
Sky Race Store Details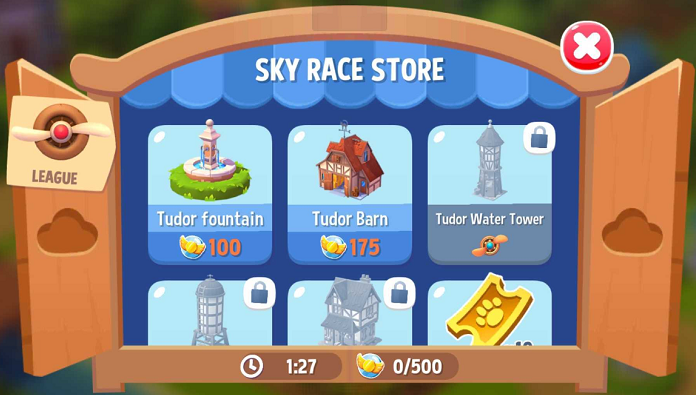 In each Season, the items in the store will Unique and Limited. The only time you can purchased these Limited items are during the Season until start of next Season. New season will bring new Theme and Items and Rewards. Please note that there is one small race in between 2 Seasons!
Sky Tokens earned during a Season can only be used before Start of next Season, so spend them!
We'll keep on updating Tasks, Rewards and Limited Items for each season, so please check regularly or follow our facebook page to be notified for updates!