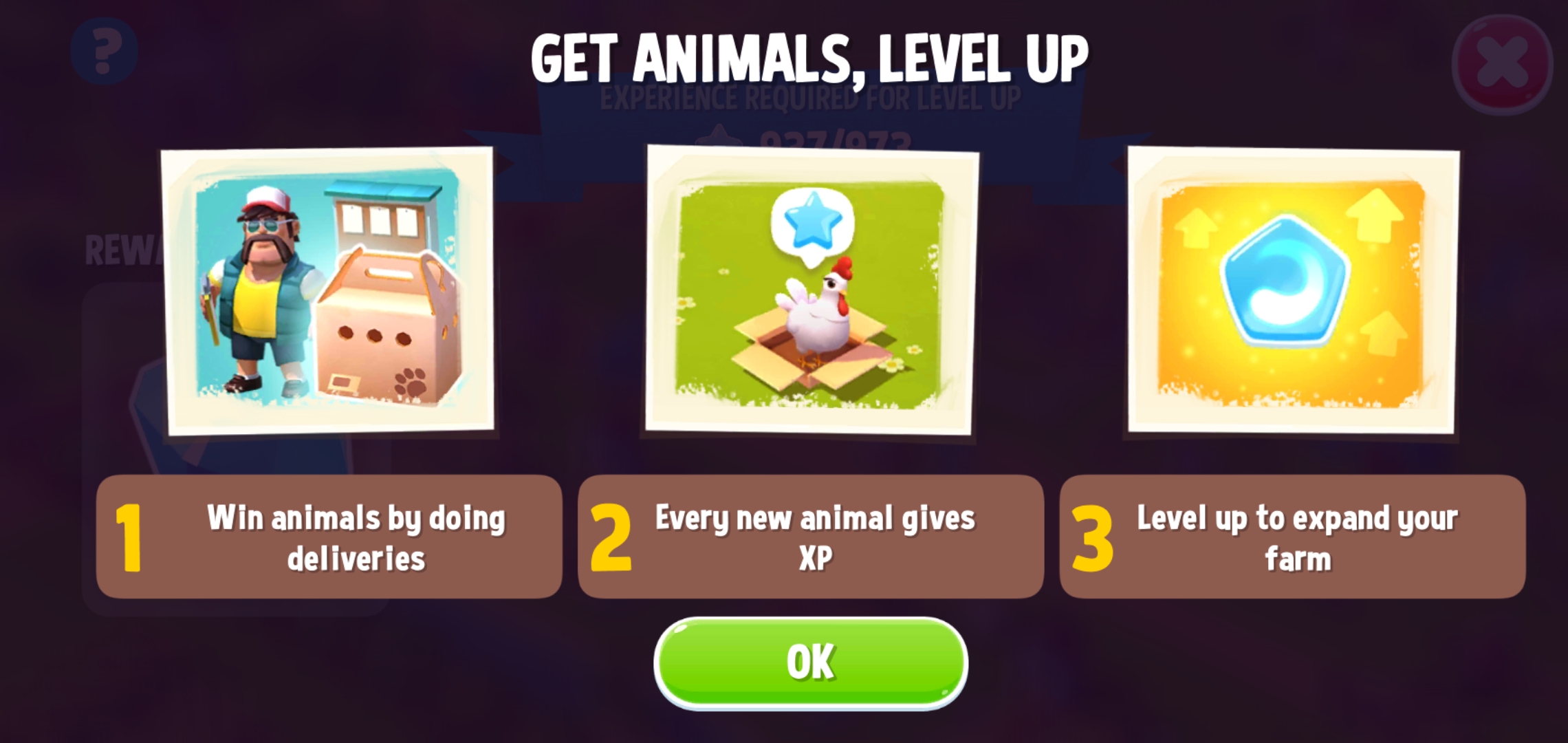 News
How to Level Up or Gain experience
To level up in the game, you need to earn Experience Points (XP). Currently there are 150 levels available in the game. In this post we have listed down all the rewards for every levels, the XP requirements for each levels, recipe unlocked, items unlocked, buildings unlocked, animals unlocked, expansions unlocked etc 😁
For levels 1-5, there's plenty of ways to earn XP, just follow along the tutorials. While levels 6 and above, there are currently 2 ways of gaining XP hence leveling up:
Add new Animals or Exotic to your Farm and clicking the Star icons above the Animals. For info on how to obtain Animals head over to this page.
Construct buildings.
How do I level up faster?
It is possible to reach Max Level (Level 150) within 3 months. It is important to know that it's not just how many animals you add, but what kind of animals and breeds also plays a vital role. Different animals produce different amount of XP. You may check the list by clicking here. From the list you can see higher tier Animals have more XP. Therefore we should add and breed animals as much as possible. Hence, the easiest and fastest way to level up is to Boost Growth your baby animals and adding Exotic Animals as much as possible!
While there is not much buildings in the game, but they do contribute to your XP progress. Unlike animals, each building built will only give you 5 XP.
Requirements, Rewards and Unlocks
Table below shows XP requirements, rewards and benefits of leveling up for each level.
Table explanation
XP Experience Points required to reach this level.
Item Unlocked Cooking Recipes and Crafting Items unlocked once you reached this level.
Max Buildings Maximum number of building you can have once you reached this level. For example, once you reached Level 17, you're allowed to have 2x Feed Makers. Note: you can have multiple Wells as they're considered as Premium items.
Animals Unlocked Which Animals and Exotic Animals unlocked once you reached this level.
Expansion Unlocked Which Land expansions unlocked once you reached this level.
NOTE: Table below can be scrolled to right!
Level
Rewards
Recipes Unlocked
Max Buildings
Animals Unlocked
Expansions Unlocked

Level 1

XP required: 0

6x Field
1x Feed Silo
1x Water Tower

Level 2

XP required: 5

Level 3

XP required: 17

Level 4

XP required: 5

4x Wheat
3x Sunflower
2x Egg

Level 5

XP required: 22

1x Chad Wood Sticker
5x Axe
5x Shovel
5x Saw
6x Soybean
10x Wood
4x Egg

Level 6

XP required: 22

1x Katie Cookie Sticker
5x Axe
5x Shovel
5x Saw
150x Coin
2x Milk

Level 7

XP required: 23

Level 8

XP required: 33

Level 9

XP required: 33

1x Carlos Cordova Sticker
4x Sugarcane
2x Sugar
1x Exotic Animal Chest

Carrot Bread
Ice Cream Cone

1x Dessert Stand
1x Ranger Station

Level 10

XP required: 39

Shorthorn Cow
Gold Laced
Badger
Bog Turtle

Level 11

XP required: 46

Obsidian Turtle
Pearl Turtle
Raccoon

Level 12

XP required: 52

Brown Bear
Jackalope
Red Fox
River Otter
Yorkshire Pig

Level 13

XP required: 65

Asian Bear
Grey Wolf
Black Wolf
Red Panda

Level 14

XP required: 72

6x Pauly Bee Sticker
3x Pickaxe

Donkey
White Wolf
Red Kangaroo

Level 15

XP required: 84

Australian Teamster
Poitou Donkey
Fennec Fox
Brown Kangaroo
Gloucester Pig

Level 16

XP required: 90

Level 17

XP required: 94

Hampshire Red
Arctic Fox
Penguin

Level 18

XP required: 105

Apple Pie
Cheese Popcorn
Tofu Burger

Angus Cow
Hedgehog
Brown Reindeer
Moose
Polar Bear
White Tail Deer

Level 19

XP required: 116

White Tiger
Hampshire Red

Level 20

XP required: 132

Bacon Pizza
Grilled Corn Stick

Level 21

XP required: 145

Cheeseburger
Strawberry Ice Cream

Level 22

XP required: 175

Level 23

XP required: 205

Caramel Apple
Mayo Fries
Red Wool Hat

Level 24

XP required: 210

Level 25

XP required: 220

Level 26

XP required: 230

Level 27

XP required: 240

Red Squirrel
Shetland Sheep

Level 28

XP required: 250

Charolais Cow
Saxony Duck
Tamworth Pig

Level 29

XP required: 255

Level 30

XP required: 260

Level 31

XP required: 270

Level 32

XP required: 280

Level 33

XP required: 290

Level 34

XP required: 305

Tyrol Grey
Silver Bantam
Beltsville White

Level 35

XP required: 320

Level 36

XP required: 335

Level 37

XP required: 350

Level 38

XP required: 370

Level 39

XP required: 390

Level 40

XP required: 410

Level 41

XP required: 430

Cashmere Scarf
Grilled Shrimp
Smoothie

Level 42

XP required: 450

Black Bengal
Mongolian Horse

Level 43

XP required: 470

Baseball Mitt
Goat Cheese Mushrooms

Level 44

XP required: 490

Blueberry Ice Cream
Shrimp Mushroom Pasta

Level 45

XP required: 510

Cowboy Boots
Goat Cheese Pizza
Lobster Ravioli

Tudanca Cow
Mandarin Duck
Saanen Goat

Level 46

XP required: 530

Level 47

XP required: 550

Water Buffalo
American Painted

Level 48

XP required: 570

Level 49

XP required: 590

Brown American
Nubian Goat

Level 50

XP required: 610

Guzera Cow
Embden Goose
Icelandic Chestnut
Wild Hog
Dark Brown Alpaca

Level 51

XP required: 630

Level 52

XP required: 650

Level 53

XP required: 670

Level 54

XP required: 690

Level 55

XP required: 710

Level 56

XP required: 730

Level 57

XP required: 740

Level 58

XP required: 750

Level 59

XP required: 760

Level 60

XP required: 770

Level 61

XP required: 780

Level 62

XP required: 790

Level 63

XP required: 800

Level 64

XP required: 810

Level 65

XP required: 820

Level 66

XP required: 830

Level 67

XP required: 840

Level 68

XP required: 850

Level 69

XP required: 860

Level 70

XP required: 870

Level 71

XP required: 880

Level 72

XP required: 890

Level 73

XP required: 900

Level 74

XP required: 915

Level 75

XP required: 930

Level 76

XP required: 945

Level 77

XP required: 960

Level 78

XP required: 975

Level 79

XP required: 995

Level 80

XP required: 1,015

Level 81

XP required: 1,035

Level 82

XP required: 1,055

Level 83

XP required: 1,075

Level 84

XP required: 1,125

Level 85

XP required: 1,175

Level 86

XP required: 1,225

Level 87

XP required: 1,275

Level 88

XP required: 1,325

Level 89

XP required: 1,375

Level 90

XP required: 1,425

Level 91

XP required: 1,475

Level 92

XP required: 1,525

Level 93

XP required: 1,575

Level 94

XP required: 1,625

Level 95

XP required: 1,675

Level 96

XP required: 1,725

Level 97

XP required: 1,775

Level 98

XP required: 1,825

Level 99

XP required: 1,875

Level 100

XP required: 1,925

Level 101

XP required: 1,975

Level 102

XP required: 2,025

Level 103

XP required: 2,075

Level 104

XP required: 2,125

Level 105

XP required: 2,175

Level 106

XP required: 2,225

Level 107

XP required: 2,275

Level 108

XP required: 2,325

Level 109

XP required: 2,375

Level 110

XP required: 2,425

Level 111

XP required: 2,475

Level 112

XP required: 2,525

Level 113

XP required: 2,575

Level 114

XP required: 2,625

Level 115

XP required: 2,675

Level 116

XP required: 2,725

Level 117

XP required: 2,775

Level 118

XP required: 2,825

Level 119

XP required: 2,875

Level 120

XP required: 2,925

Level 121

XP required: 2,975

Level 122

XP required: 3,025

Level 123

XP required: 3,075

Level 124

XP required: 3,125

Level 125

XP required: 3,175

Level 126

XP required: 3,225

Level 127

XP required: 3,275

Level 128

XP required: 3,325

Level 129

XP required: 3,375

Level 130

XP required: 3,425

Level 131

XP required: 3,475

Level 132

XP required: 3,525

Level 133

XP required: 3,575

Level 134

XP required: 3,625

Level 135

XP required: 3,675

Level 136

XP required: 3,725

Level 137

XP required: 3,775

Level 138

XP required: 3,825

Level 139

XP required: 3,875

Level 140

XP required: 3,925

Level 141

XP required: 3,975

Level 142

XP required: 4,025

Level 143

XP required: 4,075

Level 144

XP required: 4,125

Level 145

XP required: 4,175

Level 146

XP required: 4,225

Level 147

XP required: 4,275

Level 148

XP required: 4,325

Level 149

XP required: 4,375

Level 150

XP required: 4,425