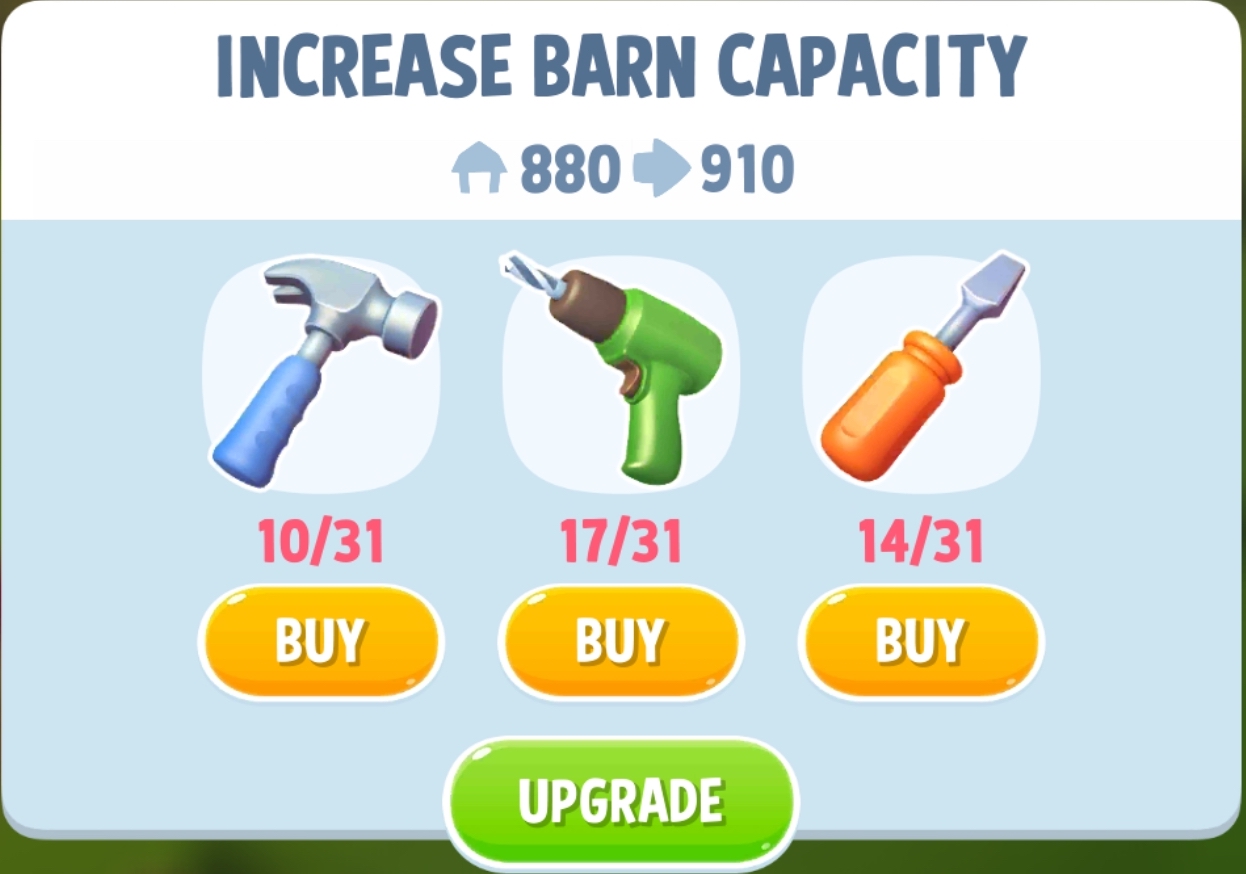 News
Barn Storage Info And Upgrade Requirements
Since the update on 21 September 2020 (version 1.4.12041), the Barn storage and upgrade requirements changes have created uproars in FarmVille 3 - Animals communities. Many players have quited playing and many also voiced out their intention of doing so.
Zynga has heard the voices of player communities, and will soon fix the issue with Barn Storage. We'll keep on updating this page from time to time once we get more info, so please check regularly or follow our facebook page to be notified for updates!
Anyway, this post will discuss about the Upgrading process, the materials needed and how to get the materials.
Currently there are 50 Barn levels available in the game. In this post we have listed down all the Storage Capacity and the building requirements for each levels 😁
This new Storage is separated using 2 types; Barn and Crop Storage. This post is mainly for Barn storage. If you're wondering how to know your Barn Level, you can tap on your barn building and the Level and capacity info will be displayed.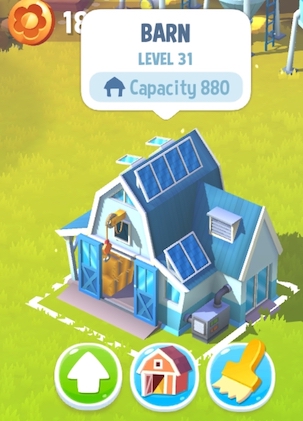 Barn level and capacity info
Barn Upgrade Items Materials
Before we get to the list, we should know what are the Items needed to upgrade, where and how to get them and their price in Gems if we choose to buy. You can buy the items using Gems by tapping on Barn icon, tap on the UPGRADE button, it will show the number of items needed and missing items. Then you can click on the BUY button (or UPGRADE button to buy all missing Items). You could also buy these items at a lower price via Merchant's Gem Bundle.
Table explanation
Item The item name
Price In Gems Price in Gems should you decide to buy using Gems
Total Needed Total number of items needed to upgrade Barn from Level 1 to Level 50
| | Item | Price in Gems | Total Needed |
| --- | --- | --- | --- |
| | Hammer | 40 | 1,225 |
| | Drill | 40 | 1,225 |
| | Screwdriver | 40 | 1,225 |
How to get those items (Hammer, Drill, Screwdriver)
All the items above can be acquired by using same methods:
Clearing Rubbles. There are random chances that these items will be dropped after clearing Rubbles. Tips: the higher the Farmhand's Level, the higher the chance is! And a Storage Upgrade chest could randomly appear too after clearing Rubbles.
Doing Ranger Mission (Animal Quest) Storage Upgrade Affair.
Winning Bronze or Silver or Gold Chest in Coop Leaderboard. With Gold and Silver Chest you will get 2 Storage Upgrade items (this includes non Barn Upgrade items such as Two-handed Saw, Bearing, Wrench, Rope etc).
Achieve at least Wooden Chest in Coop Event. The higher the Chest tier, the better the chance to get Storage Upgrade Items.
Fullfiling Visitor's Requests.
Purchasing from Merchant. Price and quantity varied from 325 Gems (3 each) to 1050 Gems (10 each).
Requirements, Rewards and Unlocks
Table below shows Storage capacity and Items required per level. NOTE: The Barn can be unlocked when a Player reached level 5. Before having a Barn, the initial storage capacity is at 40.
Table explanation
Level Barn Level.
Capacity How many items can you store in this level.
Items Required Items to upgrade and how many of them you'll need.
Level
Capacity
Items
Level 1
70
Level 2
90

1x Hammer
1x Drill
1x Screwdriver

Level 3
110

2x Hammer
2x Drill
2x Screwdriver

Level 4
130

3x Hammer
3x Drill
3x Screwdriver

Level 5
150

4x Hammer
4x Drill
4x Screwdriver

Level 6
175

5x Hammer
5x Drill
5x Screwdriver

Level 7
200

6x Hammer
6x Drill
6x Screwdriver

Level 8
225

7x Hammer
7x Drill
7x Screwdriver

Level 9
250

8x Hammer
8x Drill
8x Screwdriver

Level 10
275

9x Hammer
9x Drill
9x Screwdriver

Level 11
300

10x Hammer
10x Drill
10x Screwdriver

Level 12
325

11x Hammer
11x Drill
11x Screwdriver

Level 13
350

12x Hammer
12x Drill
12x Screwdriver

Level 14
375

13x Hammer
13x Drill
13x Screwdriver

Level 15
400

14x Hammer
14x Drill
14x Screwdriver

Level 16
430

15x Hammer
15x Drill
15x Screwdriver

Level 17
460

16x Hammer
16x Drill
16x Screwdriver

Level 18
490

17x Hammer
17x Drill
17x Screwdriver

Level 19
520

18x Hammer
18x Drill
18x Screwdriver

Level 20
550

19x Hammer
19x Drill
19x Screwdriver

Level 21
580

20x Hammer
20x Drill
20x Screwdriver

Level 22
610

21x Hammer
21x Drill
21x Screwdriver

Level 23
640

22x Hammer
22x Drill
22x Screwdriver

Level 24
670

23x Hammer
23x Drill
23x Screwdriver

Level 25
700

24x Hammer
24x Drill
24x Screwdriver

Level 26
730

25x Hammer
25x Drill
25x Screwdriver

Level 27
760

26x Hammer
26x Drill
26x Screwdriver

Level 28
790

27x Hammer
27x Drill
27x Screwdriver

Level 29
820

28x Hammer
28x Drill
28x Screwdriver

Level 30
850

29x Hammer
29x Drill
29x Screwdriver

Level 31
880

30x Hammer
30x Drill
30x Screwdriver

Level 32
910

31x Hammer
31x Drill
31x Screwdriver

Level 33
940

32x Hammer
32x Drill
32x Screwdriver

Level 34
970

33x Hammer
33x Drill
33x Screwdriver

Level 35
1000

34x Hammer
34x Drill
34x Screwdriver

Level 36
1030

35x Hammer
35x Drill
35x Screwdriver

Level 37
1060

36x Hammer
36x Drill
36x Screwdriver

Level 38
1090

37x Hammer
37x Drill
37x Screwdriver

Level 39
1120

38x Hammer
38x Drill
38x Screwdriver

Level 40
1150

39x Hammer
39x Drill
39x Screwdriver

Level 41
1180

40x Hammer
40x Drill
40x Screwdriver

Level 42
1210

41x Hammer
41x Drill
41x Screwdriver

Level 43
1240

42x Hammer
42x Drill
42x Screwdriver

Level 44
1270

43x Hammer
43x Drill
43x Screwdriver

Level 45
1300

44x Hammer
44x Drill
44x Screwdriver

Level 46
1330

45x Hammer
45x Drill
45x Screwdriver

Level 47
1360

46x Hammer
46x Drill
46x Screwdriver

Level 48
1390

47x Hammer
47x Drill
47x Screwdriver

Level 49
1420

48x Hammer
48x Drill
48x Screwdriver

Level 50
1450

49x Hammer
49x Drill
49x Screwdriver