Country Camping Guide
Shortcuts
Frequently Asked Questions F.A.Q
Q: Why I didn't get the event? Why it's saying coming soon for me, while other people are playing? Why this event not available to me?
A: You have to be at least Level 16 to receive this event and you must be selected by Zynga to participate in this event.
Q: Why I don't have the feature to buy Premium Season Pass?
A: Currently, Season Pass available to select players only.
Q: Do I need to spend Real Money to win/play?
A: No, the event can be played freely and can be won without Real Money. You'll just miss extra perks, Decorations, Skins and extra rewards.
Q: How long will the perks last?
A: As long as the season lasts (refer to each season guide). Then all Boosted perks will be back to normal.
Q: If I buy Season Pass later, will I get previous rewards?
A: Yes, all rewards will be backdated. However the Perks will still end when Season ends.
Q: Do I need to complete all Daily Tasks or Badge Tasks?
A: No, there are enough tasks for you to achieve Grand Prize. But you will need to plan properly how much points you can earn per day. It is recommended to complete 2 Daily Tasks everyday.
What is Country Camping
It is an event that lasted around 30 days in which you can earn multiple rewards by completing Tasks.
You have to be at least Level 16 to receive this event and you must be selected by Zynga to participate in this event.
Premium Season Pass
Season Pass, a Premium pass that can only be purchased using real money. Price varies depending on multiple factors such as Country.
This Season Pass will last as long as the current Country Camping.
The benefit of having Season Pass:
More Rewards (Premium Rewards + Free Rewards)
1 extra Daily Task which will increase the chance of winning and help you finish faster
1 Daily Task will give 100 Camp Points compared to Free 50 Camp Points
Access to Bonus Rewards
Premium Perks such as:

Increase the storage capacity of the Silo.
Increases the amount of Experience earned.
Increases maximum Farmhand Energy capacity.
Boat returns faster.
Increases the Ribbon Point value of Crafts for County Fair and Boat Orders.
Visitors arrive more frequently with requests.
Water supply fills faster.
Keep in mind, all Perks will end when Season ends. Once a season is over, all the perks such as Barn capacity will be restored back to your original capacity.
NOTE: Only selected players can purchase Season Pass.
How to play
Main objective of this event is completing Badge and Daily Tasks. You will get rewarded by collecting Camp Points (acorn) according to the Milestones. For example collecting 300 camp points will give Coins and 600 camp points will give you Gems. Note, this is just an example as every Season will have different Milestones rewards.

Image of Camp Point (acorn)
There is also another kind of point to be collected called Star. This only can be obtained in Badge Task to unlock more Badge Tasks.

Image of Camp Star
Task Type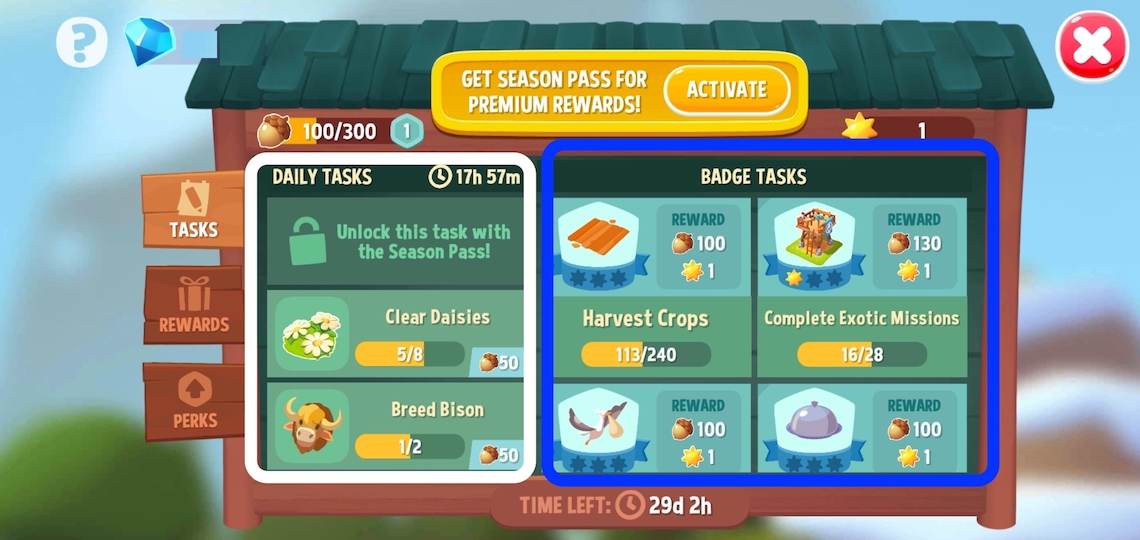 Type of tasks
There are 2 type of tasks Badge Tasks and Daily Tasks.
Badge Tasks
In image above, Badge tasks are inside the Blue Box (right side). This type of tasks are permanent, no time limit tasks that wont change. You will have to do certain number of actions that required by each Badge. Example actions are Feed Animals, Clear Junks, Harvest Crops etc.
Once you completed a certain number of actions, you will be rewarded with Camp Points (acorn) and a Star. More badge tasks will be unlocked once you have collected enough stars. Each badge has 3 tiers (stars) to earn. Once you earned all 3 tiers (stars), the Badge will mark as Completed.
Premium Season Pass users and Free users will have same number of Badge Tasks and same Actions.
There are a maximum of 60 stars to earn and 20 badges to unlock.
Daily Tasks
In image above, Badge tasks are inside the White Box (left side). This type of tasks are time limited tasks that needs to be completed before time runs out. These tasks will be refreshed on daily basis.
There are no stars rewarded by completing these tasks, only Camp Points (acorns).
For Free User, you will be given 2 Daily Tasks per day, while Premium Season Pass Player will have 3 Daily Tasks per day which will enhance winning chance.
Every player (free or premium), will receive different Daily Tasks that are randomly taken from Daily Task Pool (as listed below). Every season will have different task pool.
Bonus Rewards
This Reward only available for Premium Season Pass users!
Once you have completed all the milestones, you still can continue doing the Daily Tasks to get more rewards. New set of rewards will be awarded for every 300 camp points starting from 10,300 points. Then at 10,600 then at 10,900 and so on.
This rewards are randomly taken from a Reward Pool as listed in each Season guide. There is no limit on how much Bonus Reward you can get.