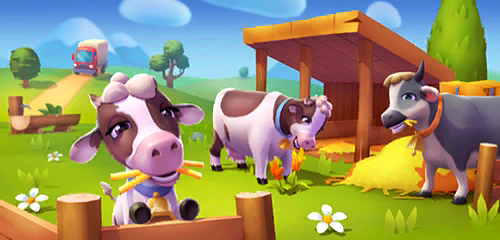 Animals • Cows
List of Cows
The game now currently have 12 breeds of Cows. Table below only list a summary, for more details, visit each of the Cows page.
Table explanation
XP Experience Points earned once a new Cows were born and the Star icon tapped.
LEVEL Cows will only be available inside Reward Chests once a player reach this level. If the value is n/a means the Cows can not be obtained via chest, only via breeding.
GROWTH Time for a baby to grow. Tips: you can instantly grow a baby using a farmhand at no cost!
| | breed | xp | rarity | level | growth |
| --- | --- | --- | --- | --- | --- |
| | Tier 1 | 5 | Common | 3 | 2h |
| | Tier 2 | 7 | Common | 10 | 4h |
| | Tier 3 | 9 | Common | 18 | 8h |
| | Tier 4 | 11 | Uncommon | 28 | 10h |
| | Tier 5 | 13 | Uncommon | 34 | 14h |
| | Tier 6 | 15 | Uncommon | 45 | 20h |
| | Tier 7 | 17 | Rare | 50 | 1d 1h |
| | Tier 8 | 19 | Rare | n/a | 1d 10h |
| | Tier 9 | 21 | Rare | n/a | 1d 20h |
| | Tier 10 | 23 | Epic | n/a | 2d 2h |
| | Tier 11 | 25 | Epic | n/a | 2d 21h |
| | Tier 12 | 27 | Epic | n/a | 3d 14h |